Quick Contact

+91 484 2428431

info@solutech-soft.com
Smart Operations Management
Your success in business depends on your decisions. Smart Vision will help you to take another step towards success with 'Smart Operations Management' (SOM), It might seem unbelievable but it's true. These profitable solutions have never been as accessible before. Our Proposed SOM aims to establish state of the art enterprise-class Technical solutions that are solid, reliable, secure & scalable to address the Current and the future needs of Office Management. It is fully automated solution, easy to use & affordable system. More than that, it has wonderful features as highlighted below: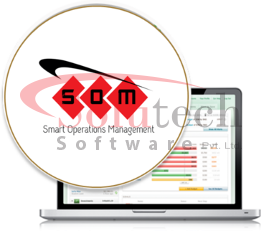 Creates paperless environment.
High level integration in order to make coordination between various modules so easy.
The application is fully role based.
Provides several convenient methods for searching and retrieving information.
The system will grant access for some beneficiaries on specific Data Sources and allowing them to analyze and create indicators.
Flexible to accommodate any needed changes without difficulty.
High end search options and graphics support.
Informative support manuals & lot more …….